contentarea
OA - OA Stain eliminator (grūti iztīrāmiem traipiem un netīrumiem)


High quality
Intelligent price
Warranty
Do you need advice or help?
Designed for materials
Woven fabric, Alcantara, Velvet, Water repellent fabric, Chenille, Velor
Usage
Ready for immediate use. Spray on the dirty surface and after ~30 seconds wipe with a microfiber cloth. A plastic spatula can be used to clean chewing gum. It is also intended for markers, bitumen, glue, sticker residues, tar, ie
Features of the product
Neutralizes unpleasant aromas, Does not damage the structure and color of the fabric, Restores the original appearance, Removes water-insoluble tough stains from furniture upholstery, such as chewing gum., Nature-friendly 100% organic product, Does not contain harmful PFC impurities, Cleans stubborn stains
Period of exposure
For everyday use
SKU
OA Stain eliminator 100ml
Product description
We are pleased to announce that the item is available in our WE FURNITURE store-warehouse at Brīvības gatve 401. Come visit us and we will help you choose the one that suits your needs or call us at +371 2555 0606 and we will advise you remotely.
STORE-WAREHOUSE BUSINESS HOURS
M. 13:00 - 17:00
T. 10:00 - 19:00
W. 10:00 - 17:00
T. 10:00 - 19:00
F. 10:00 - 17:00
S. 10:00 - 15:00
Su. Closed
*T.-F. launch break from 12:00-13:00
---

The wood used for the production is FSC® certified, which confirms that forests used for timber development for sofa production are managed responsibly and in accordance with the FSC Principles.
 
Payment methods

Cash
You can make payment in cash at our store-warehouse or upon delivery.

Credit card
You can pay by card to our store-store or upon order online.

Transfer
You can make payment by transfer both as individual, or a legal person.

Lease
You can form lease at our store-warehouse at the time of purchase, or upon order online.
Receipt of goods
Take out yourself
Receipt of goods, Take out yourself, Receipt of goods in our store-warehouse - free of charge.
Apply for delivery
You can find out the exact delivery price and the time available by contacting our professional delivery service by phone 25550606
Delivery price up to the outside door in Riga is 25 Eur, rest of Latvia - starting from 30 Eur.
Description
OA stain eliminator ir paredzēts noturīgu traipu likvidēšanai. Efektīvi noņem ūdenī nešķīstošus traipus, Aizvieto ierastos spēcīgos šķīdinātājus, kas var apstrādāto virsmu padarīt trauslāku mazināt ražotāja garantēto kvalitāti. Īpaši piemērots marķieru, košļājamās gumijas, bitumena, līmes, uzlīmju atlikumu, darvas, tintes, parafīna un dabīgo sveķu traipu tīrīšanai. Paredzēts lietošanai uz tekstilizstrādājumiem, paklājiem, kā arī cietām virsmām (akmens, plastmasa, koks, furnitūra, stikls, metāls utt.).
Produkts ir gatavs tūlītējai lietošanai un to nav nepieciešams pēc lietošanas skalot ārā no apstrādātās virsmas.
Pēc lietošanas apstrādātā vieta nezaudē iepriekšējās īpašības un nezaudē izturību. Dermatoloģiski pārbaudīts.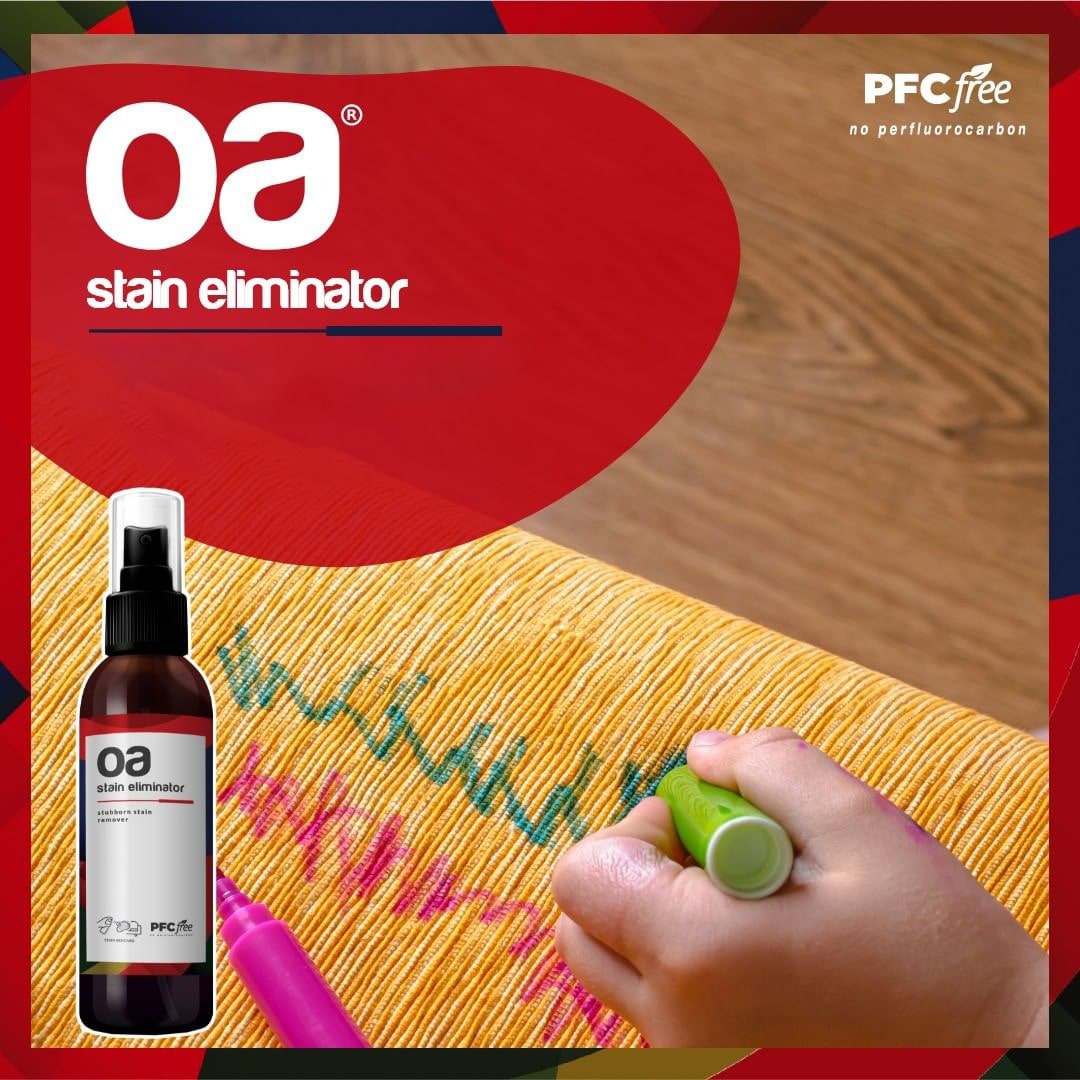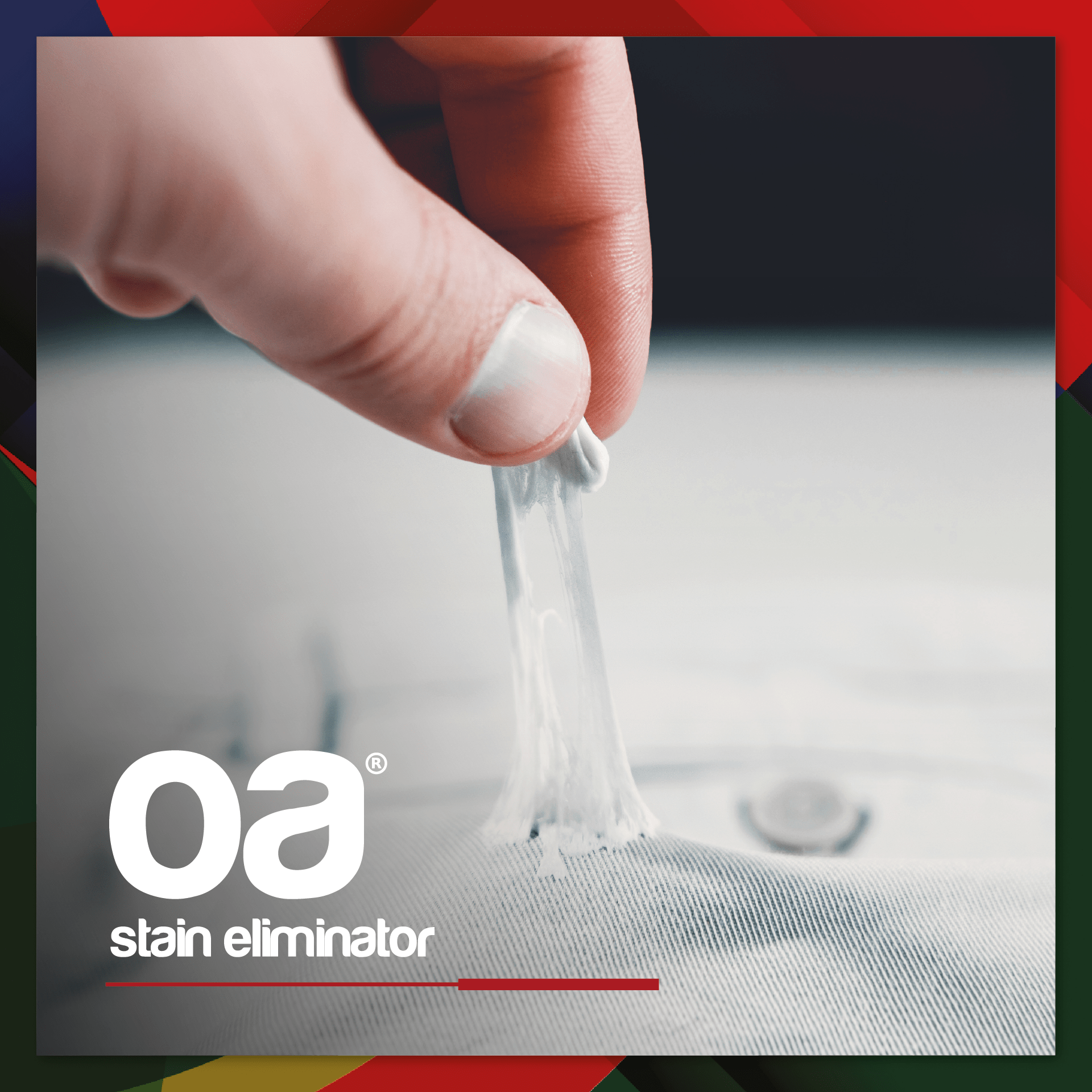 Īpašības:
Tīra pat visjaudīgākos traipus

Tīra arī senākus traipus (tsk. košļājamās gumijas, bitumena, līmes, uc.)

Nebojā apstrādātās virsmas īpašības, tsk krāsu


Neitralizē nepatīkamus aromātus

PFC Free
Sastāvā: Propan-2-ols, saldo apelsīnu ekstrakts, UZLIESMOJOŠS ŠĶIDRUMS.
Lietošana: Pirms lietošanas viegli sakratīt OA leather care pudelīti. Uzsākot apstrādājamās virsmas apstrādi, pārliecināties, ka pudelītes izsmidzinātāja priekšējā daļa ir pagriezta smidzināšanas režīmā. Izsmidziniet apmēram 10-20 cm attālumā no ādas iztrādājuma, kuru vēlaties notīrīt. Vienmērīgi uzklājiet preparātu uz ādas virsmas, iemasējiet to ar mikrošķiedru, nepieciešamības gadījumā izmantojiet smalku otiņu, lai iekļūtu dziļi ādas porās. Pēc tam noslaukiet virsmu ar mitru mikrošķiedras lupatiņu, lai noņemtu notīrītos netīrumus, un atkārtojiet darbību ar sausu mikrošķiedras lupatiņu. Lai pagarinātu ādas izstrādājuma mūža ilgumu, ieteicams lietot OA leather lotion. Preparāta lietošanas temperatūra no +5°C līdz +40°C. Drošs produkts – lietošanas laikā tas neapdraud materiālus, kas atrodas blakus ādai, piemēram, koku, metālu, plastmasu. Paredzēts visiem ādas tipiem, tsk auduma izstrādājumiem. Pēc lietošanas pārlicināties, ka pudelīte ir netek un novieto to glabāšanai netiešos saules staros. Sargāt no bērniem.
Other products from this collection
Goods on-site in store-warehouse in Riga