contentarea
OA - OA Leather care 500ml (ādas kopšanas līdzeklis)


High quality
Intelligent price
Warranty
Do you need advice or help?
Designed for materials
Natural leather, Eco leather
Usage
Ready for immediate use. Spray on the dirty area and clean with a microfiber cloth
Features of the product
Intended for daily use, Restores the shine and color of the skin, Moisturizes the skin and keeps it looking new for a longer period of time, Nature-friendly 100% organic product, Does not contain harmful PFC impurities, Cleans stubborn stains, Antistatic coating
Period of exposure
For everyday use
SKU
OA Leather care 500ml
Product description
We are pleased to announce that the item is available in our WE FURNITURE store-warehouse at Brīvības gatve 401. Come visit us and we will help you choose the one that suits your needs or call us at +371 2555 0606 and we will advise you remotely.
STORE-WAREHOUSE BUSINESS HOURS
M. 13:00 - 17:00
T. 10:00 - 19:00
W. 10:00 - 17:00
T. 10:00 - 19:00
F. 10:00 - 17:00
S. 10:00 - 15:00
Su. Closed
*T.-F. launch break from 12:00-13:00
---

The wood used for the production is FSC® certified, which confirms that forests used for timber development for sofa production are managed responsibly and in accordance with the FSC Principles.
 
Payment methods

Cash
You can make payment in cash at our store-warehouse or upon delivery.

Credit card
You can pay by card to our store-store or upon order online.

Transfer
You can make payment by transfer both as individual, or a legal person.

Lease
You can form lease at our store-warehouse at the time of purchase, or upon order online.
Receipt of goods
Take out yourself
Receipt of goods, Take out yourself, Receipt of goods in our store-warehouse - free of charge.
Apply for delivery
You can find out the exact delivery price and the time available by contacting our professional delivery service by phone 25550606
Delivery price up to the outside door in Riga is 25 Eur, rest of Latvia - starting from 30 Eur.
Description
OA leather care ir piemērots ikdienas lietošanai. Ieteicams šo līdzekli lietot regulārai ādas tīrīšanai un atsvaidzināšanai, kā arī senāku traipu likvidēšanai. Paredzēts izmantot ādas mēbeļu, automašīnu sēdekļu, somu un citu ādas izstrādājumu tīrīšanai. antistatiskie komponenti nodrošina putekļu un netīrumu atgrūšanos. Moderna un mūsdienīga ķīmiskā formula nodrošina līdzekļa iekļūšanu dziļi ādas slāņos šķīdinot netīrumus un notīrot traipus. Nesausina ādu, aizkavē tās plaisāšanu un uzlabo izstrādājuma krāsas noturību. Produkts gatavots no dabīgām sastāvdaļām, to izmantošana pagarina ādas izstrādājumu kalpošanas laiku. Pilnībā bioloģiski noārdāms preparāts, kas nesatur kaitīgus PFC savienojumus. Videi draudzīgs un hipoalerģisks produkts.
Produkts ir gatavs tūlītējai lietošanai un to nav nepieciešams pēc lietošanas skalot ārā no apstrādātās virsmas.
Pēc lietošanas audums nezaudē iepriekšējās īpašības un nezaudē izturību. Dermatoloģiski pārbaudīts.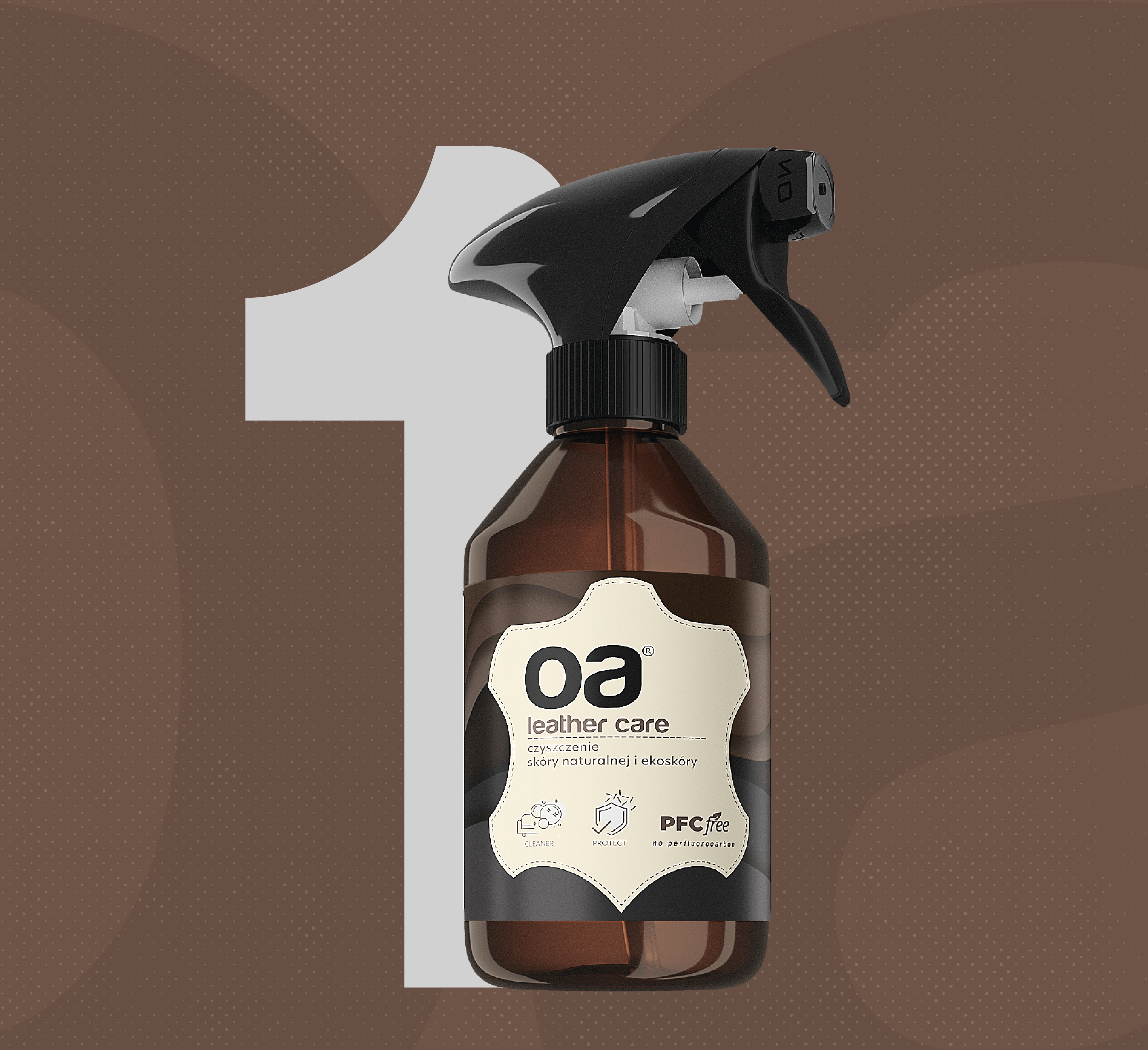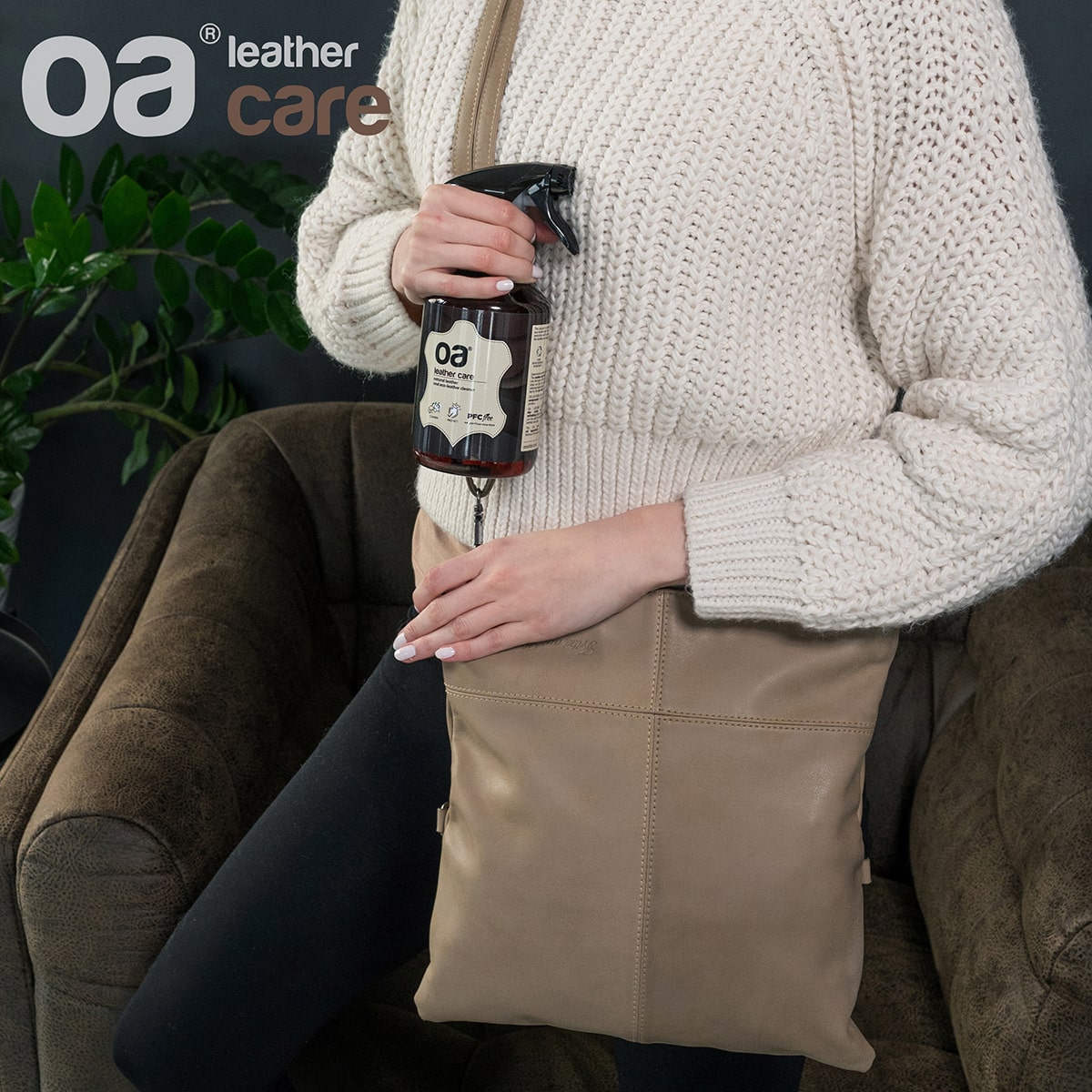 Īpašības:
Līdzeklis ādas izstrādājumu tīrīšanai

Piemerots arī eko ādai

Bagātina ādas izstrādājumu

Novēršs ādas sasprēgāšanau un saraušanos

Tīra arī vecus traipus

Antistatiķis

Atjauno ādas spīdumu un krāsu

PFC Free


Lietošana: Pirms lietošanas viegli sakratīt OA leather care pudelīti. Uzsākot apstrādājamās virsmas apstrādi, pārliecināties, ka pudelītes izsmidzinātāja priekšējā daļa ir pagriezta smidzināšanas režīmā. Izsmidziniet apmēram 10-20 cm attālumā no ādas iztrādājuma, kuru vēlaties notīrīt. Vienmērīgi uzklājiet preparātu uz ādas virsmas, iemasējiet to ar mikrošķiedru, nepieciešamības gadījumā izmantojiet smalku otiņu, lai iekļūtu dziļi ādas porās. Pēc tam noslaukiet virsmu ar mitru mikrošķiedras lupatiņu, lai noņemtu notīrītos netīrumus, un atkārtojiet darbību ar sausu mikrošķiedras lupatiņu. Lai pagarinātu ādas izstrādājuma mūža ilgumu, ieteicams lietot OA leather lotion. Preparāta lietošanas temperatūra no +5°C līdz +40°C. Drošs produkts – lietošanas laikā tas neapdraud materiālus, kas atrodas blakus ādai, piemēram, koku, metālu, plastmasu. Paredzēts visiem ādas tipiem, tsk auduma izstrādājumiem. Pēc lietošanas pārlicināties, ka pudelīte ir netek un novieto to glabāšanai netiešos saules staros. Sargāt no bērniem.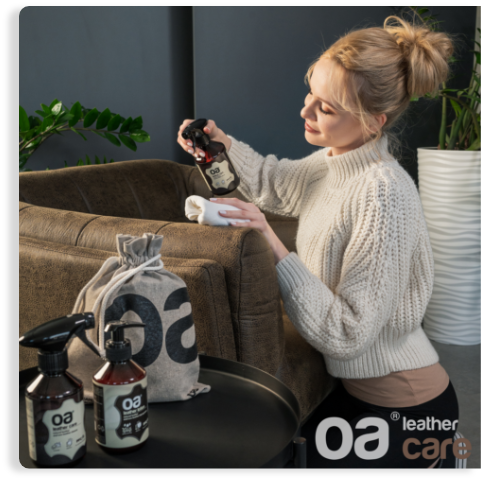 Other products from this collection
Goods on-site in store-warehouse in Riga